STAND CONTRACTOR IN BERLIN
Booth Designer in Berlin
Our Berlin-based stand design company crafts top-notch stands, whether modular, wooden customized, or aluminum booths, along with the rental of exhibition furniture and AV throughout Berlin.
With over 20 years of experience in the Exhibition industry, our reputation for creating innovative and eye-catching designs for exhibitions, trade shows, and events in Berlin is unparalleled. Our designers use the latest inspirations to bring your vision to life. We offer a range of services including project management, event logistics, event installation and assembly, taking care of every aspect of the stand design and construction process. Newcom is your go-to choice for high-quality stand design in Berlin.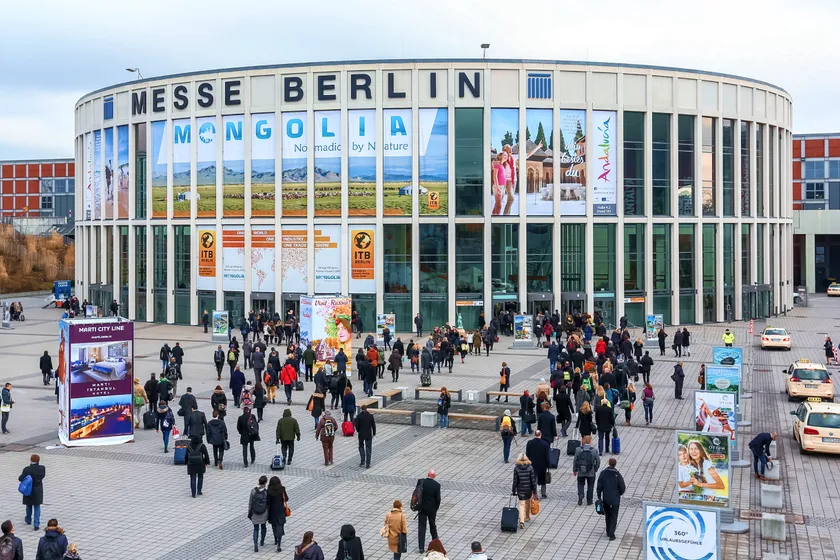 Next Trade Fairs in Berlin, Germany
Berlin, Germany 2024 Exhibitions:
Smart Country Convention (07.11.-09.11.2023)
Grüne Woche (19.01.-28.01.2024): The global hub for agribusiness.
FRUIT LOGISTICA (07.02.-09.02.2024): International Trade Fair for Fruit and Vegetable Marketing.
ITB Berlin (05.03.-07.03.2024): The World's Leading Travel Trade Show®.
ptc – Pipeline Technology Conference (08.04.-11.04.2024)
DMEA – Connecting Digital Health (09.04.-11.04.2024)
ILA Berlin – Innovation and Leadership Aerospace (05.06.-09.06.2024)
IFA – Consumer Electronics Unlimited & IFA Global Markets (06.09.-09.09.2024)
InnoTrans – International Trade Fair for Transport Technology – Innovative Components – Vehicles – Systems (24.09.-27.09.2024)
Bar Convent Berlin – International Bar and Beverage Trade Show (October 2024)
SEPAWA® – Exhibition and congress of the detergents/cleansers, cosmetics, and fragrance industry (October 2024)
Smart Country Convention (November 2024)
Exhibition Stand Project Services in Berlin:
1. Innovative 3D Stand Design:
Experience a captivating 3D stand design in Berlin that embodies and amplifies your core message, ensuring a memorable brand impression.
2. Comprehensive Builder Coordination:
From initial concepts to final construction, enjoy seamless coordination at every stage with our skilled Berlin-based exhibition stand builders.
3. Expo Logistics Mastery:
Tackle the logistical challenges of expo participation in Berlin with our expert support, ensuring a smooth and stress-free experience.
4. Booth Set-Up:
Let us handle the intricacies of setting up your booth in Berlin, ensuring it's expo-ready and resonates with your brand aesthetics.
5. Daily Stand Maintenance:
Benefit from our daily cleaning service, keeping your stand pristine and inviting throughout the Berlin trade show.
6. Timely Stand Construction:
Trust in our timely stand building process in Berlin that adheres to schedules, ensuring your stand is ready well before the expo begins.
7. Efficient Display Dismantling and Utilization:
Post-event, rely on us for swift dismantling, utilization, and proper disposal of display materials in Berlin, adhering to local regulations.
8. Organizational Assistance and Logistics:
From ensuring essential communications to handling all logistical details for your Berlin expo, we've got you covered.
9. Exhibition Furniture and Decor Provision:
Select from a range of stylish and functional exhibition furniture and decor to enhance your booth's appeal in Berlin.
10. Hassle-free Paperwork Handling: – Let us navigate through the necessary paperwork for stand construction in Berlin, ensuring compliance and saving you time.
11. Optimal Stand Location Assistance: – Benefit from our local expertise in securing a prime location for your stand in Berlin, enhancing visibility and foot traffic.
12. Local Language Communication: – Our multilingual team facilitates smooth communication with Berlin organizers, bridging language barriers and fostering better relations.
Exhibition Marketing Services in Berlin:
1. Marketing Material Preparation: – Be prepared with engaging brochures and leaflets that inform and attract attendees to your expo stand events in Berlin.
2. Digital Invitation Crafting: – Send out compelling digital invitations to your guests for your Berlin expo, creating anticipation and enhancing attendance.
3. Social Media Campaign Management: – Boost your online presence with our organized social media support, reaching a broader audience in Berlin and beyond.
4. Digital Marketing Strategy Development: – Collaborate with us to develop and execute a potent digital marketing strategy, informing potential Berlin clients about your innovative stand design.
5. Data Collection and Analysis: – Gather valuable insights from statistics and inquiries collected during the Berlin international exhibition, aiding your future marketing endeavors
Exhibition stand building company in Messe Berlin for ITB Berlin 2024, BUS2BUS, CWIEME Berlin, Lab-Supply Berlin, IFA Berlin, InnoTrans, Belektro …
Fill the form to get Quotation